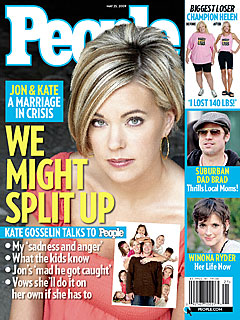 So today is the day I have waited for all week (wow to actually read that written out is sad). The new People with Kate Gosselin on the cover is out. I am slightly obsessed with this show. I guess I could say this family. My tiny obsession began in the begining when I saw her house with 8 kids. It was clean and organized. WTF?!?! I knew instantly I could not let M.D. watch it because he would be all like "What do you do all day?" and I would be like "Dude I take care of your kid." he would then say "She takes care of 8 kids, does the laundry, keeps the house picked up, cooks 3 meals a day for 10 people, and looks pretty hot while doing it. You on the other hand do a half a load of laundry a day, throw together a half ass meal or two, pretend to pick up 10 minutes before I get home and you are wearing your PJ's and have bed head." I would then say "I walk and feed the dog to asshole."
Well he finally did watch and to my suprise he thought Kate was a total bitch. Which she is but refer to conversation above and I would probably be a bit bitchy if I did that every day too. So I watch diligently every season and soon I am loving this family. The kids are so precious and Mosey is amazed by them. They have the beautiful vow renewal ceremony in Hawaii and are all in love. They buy this new beautiful big home everything seems just so perfect and then BAM!
Jon is having an affair and now Kate is having an affair and they may split up. What happened to my wholesome American family? All that was right in the world has now been crushed. All my hopes and dreams are gone. Okay dramatic I know but still. I find my self now just as addicted to the horror as I was the love. I think this is a true testament of what a little fame does to a family. M.D. comes home yesterday though and informs me that for each episode they both get $47,000.00. We have now decided to call TLC and inform them we are not busy right now and would be more then happy to allow them to film our dysfunction. Every day in our house is a rise and fall. Filled with horror and love.
Well now I wait for Mosey to wake up so I can throw her in my car and run to the store to get my new People. In my "PJ's" of course!